I hope that you all enjoyed the month-long Blogiversary celebration!  I know that I enjoyed the look back.
I have some new classes to share with you.  A new online class, as promised:
It's finally here!  The online stamp carving class that you've been asking for!  In Stamp Carving: Designing Patterns I'm going to be sharing ALL of my tips and tricks for designing gorgeous pattern stamps!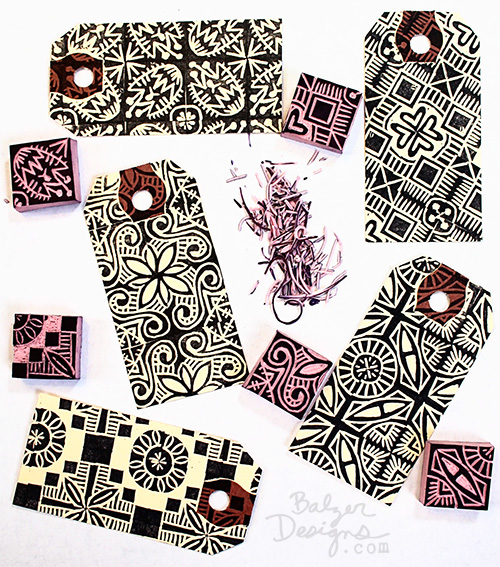 Class begins on March 31, 2017 and new video lessons are released every Monday.
There are eight power-packed instructional video lessons:
Designing Enclosed Patterns
Tips on Printing
Designing Two-Sided Strip Stamps
Designing Four-Sided Strip Stamps
The Possibilities of Triangles
Designing Triangle Stamps
Designing Rotating Repeat Stamps
Creating Better Designs
And two informational videos:
Welcome
Materials Guide
In addition, I will also be providing you with original pattern stamp designs which you are welcome to download and use.
Stamp Carving: Designing Patterns is a unique class that really focuses in on how to design great pattern stamps — both technically and artistically.
PLEASE NOTE: You *must* be able to carve a stamp to take this class.  Absolutely no stamp carving instruction will be provided in class.  The focus of this class is on design.  If you are interested in learning how to carve a stamp, you can take Stamp Carving 101.  If you wish to purchase this class and Stamp Carving 101, you can do so at a discount HERE.
All instruction for this class is delivered through streaming video.  You must have an internet connection that can handle streaming video.  If you are able to watch a long video on YouTube without any problems, you're good to go!
As with all of my online classes, once you purchase the class you have lifetime access that never expires.
Sign up HERE.
I'm also teaching three in-person classes at Papercraft Clubhouse in Connecticut March 3-5, 2017.
Make Foam Stamps: March 3
We'll make our own foam stamps for use in our art journaling and mixed media, including all kinds of repeating patterns.  Students coming for the weekend will be able to use these stamps in both the Saturday and Sunday classes!  It's fun and easy!
Make a Pamphlet Style Art Journal: March 4

In this class you'll be creating fabulous stenciled, stamped, and painted papers to bind into a simple pamphlet style art journal you can take home and put to good use. Absolutely no bookbinding experience necessary! Julie will share all of her favorite techniques for mixing colors and layering to create wonderfully unique papers. You'll go home with a cornucopia of surface design techniques and a brand-new pamphlet style art journal!
Gelli & Deli: March 5

Gelli Printing is completely addictive. It's an easy kind of monoprinting done on a commercial gelatin plate. Once you make one, you won't be able to stop! In the first half of class we'll be making lots and lots of prints and exploring just what the Gelli Plate can do. In the second half of class we'll work on creating intentional prints -- think of them as collages of layers of paint. I'm even going to show you a super cool registration technique to ensure your prints land just where you want them.  This class is great, even if you're an experienced Gelli Printer!
And finally, here are the winners from the two giveaways last week:
Playful Fabric Printing:

Stamp Carving Grand Prize: 
Congratulations, Laurie and Roberta!  E-mail balzerdesigns2@gmail.com with your snail mail address and I'll get those prizes out to you!
AND, just in case you're not Roberta.  I'm giving away another spot in Stamp Carving: Designing Patterns today! 
To win: Leave an answer to the following questions in the comments section of this blog (your answer must be posted on the blog itself, not on Facebook and not in an email reply):
Why do you want to take this class?
This contest will remain open until Tuesday, February 7, 2017 at 11:59 EST.
Thanks for stopping by!