The first time I tried a gelatin plate, I became an addict.  Literally the first time.  It was love at first sight!  And that was in 2011!  I have been gelatin printing for ten years and I want to share every single thing that I have learned about the process of gelatin printing over those ten years, with you, in my new course, "A Year of Gelatin Printing."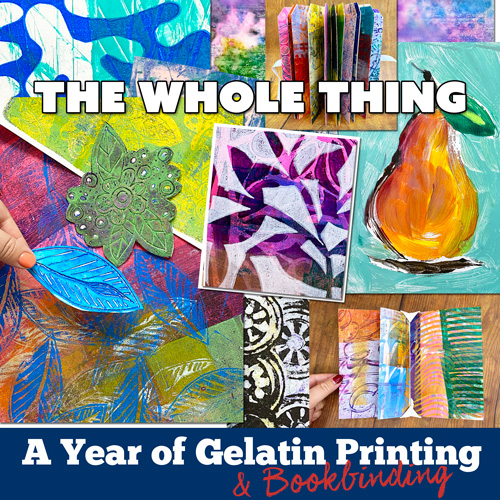 Although, I might have mis-named the course.  It should be "13 Months of Gelatin Printing AND Bookbinding."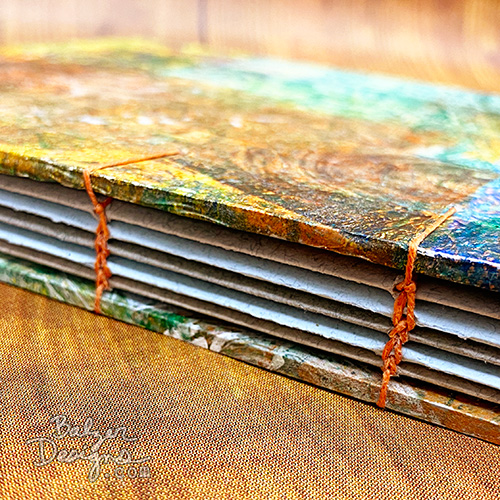 It's more than a year.  In fact, there are THIRTEEN months of lessons.  13 months of classes.  So, it's like a Baker's Dozen year.  ;)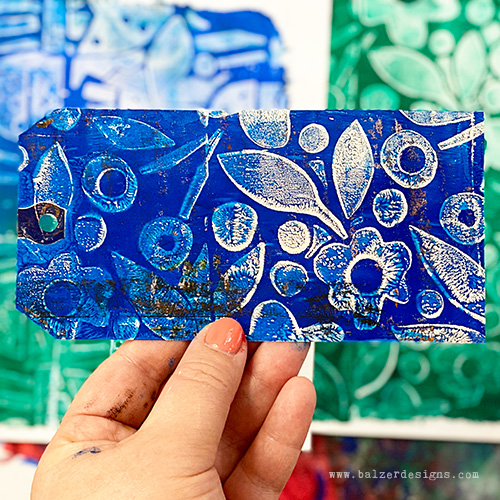 And each month offers a self-contained workshop featuring a series of gelatin printing techniques/skills AND a series of bookbinding lessons.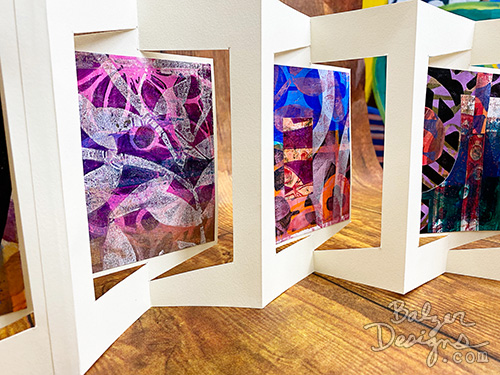 The class is so much more than the title indicates.
Intrigued by gelatin printing?
Not getting the results you want when you print?
Excited to make your own stamps and stencils?
Making a lot of backgrounds or collage paper with your gelli plate but not a lot of finished art?
Can't figure out what to do with all of those gelatin prints?
Want to understand how to create clear layers on the gelatin plate?
Wish you could make your prints more unique and more "you?"
Curious to explore mixed media printmaking?
Do you want to master the gelatin plate?
Hoping to take your work to the next level?
If you answered yes to ANY of those questions, then "A Year of Gelatin Printing" might be an excellent fit for you!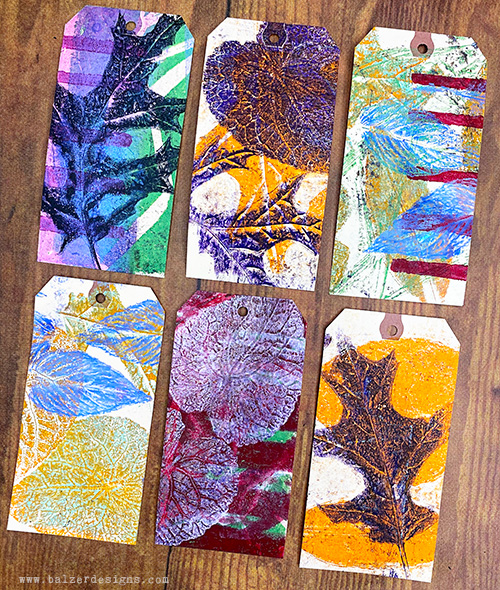 On the 1st of each month, you will get access to a series of gelatin printing lessons focused on a particular aspect of gelatin printing, such as making a lacy stencil like this one -- without a cutting machine or even a craft knife: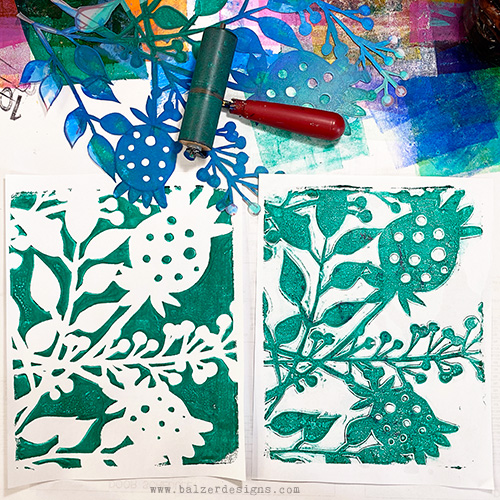 AND each month we will be folding, gluing, stapling, and/or stitching together a book, such as this tag book: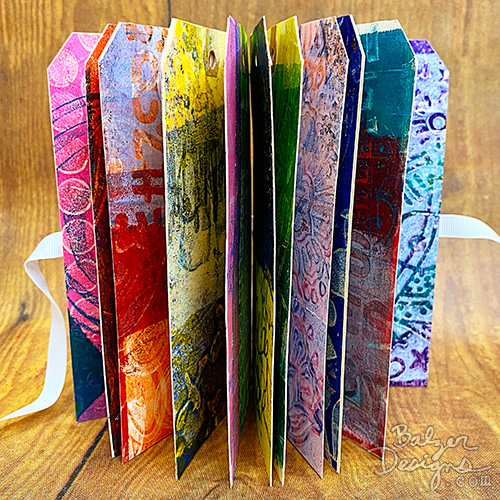 Each month's exciting workshop costs $45 or you can get a HUGE discount by purchasing all 13 months at once.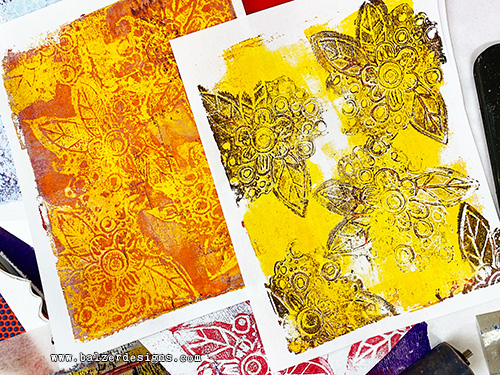 Below you can find some details about the first six months of this epic online workshop:
February 2021: Simple Acrylic Paint Monoprints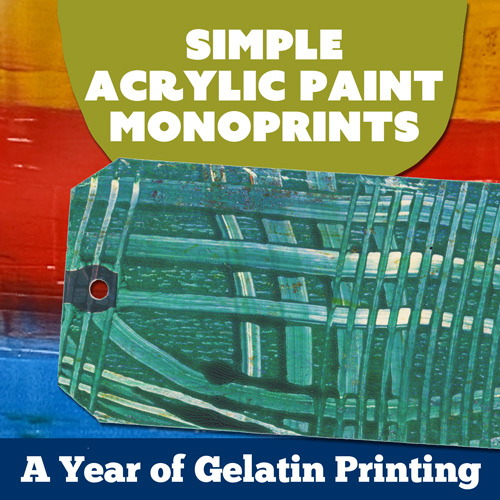 If you're new to gelatin printing or if you're experienced but not getting the results you want, this unit is for you.  It's all the basics that will enable you to create masterful prints - skills such as how much paint to put on the plate, how to mix colors, understanding opacity, and more.  There are 19 video lessons in this workshop.  As I mentioned above, if you're interested in the a la carte version of these classes, this unit is a prerequisite to any of the others. LEARN MORE
March 2021: Found Objects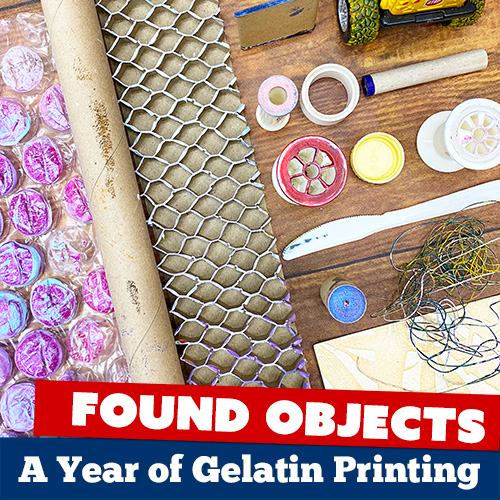 From string to rubber bands to Amazon boxes, we will be using all of the stuff you've accumulated in your junk drawer in order to create beautiful one-of-a-kind monoprints.  This unit also includes two video lessons specifically about nature printing -- all the best practices for printing with the "supplies" from your own backyard (or the park down the road).  LEARN MORE
April 2021: Stamps & Texture Plates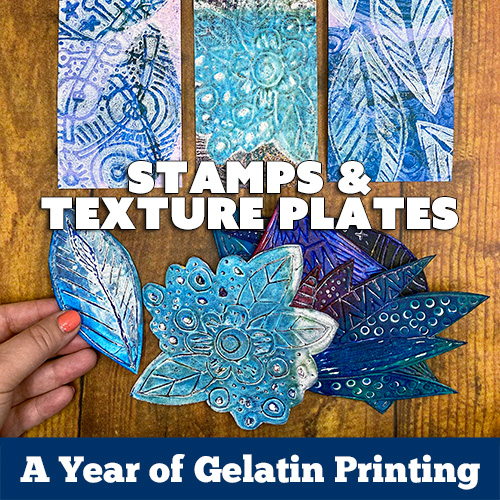 We will explore how to get the best results out of rubber, silicone, and foam stamps on the gelatin plate.  And then we will make our own fabulous stamps and texture plates from a variety of mediums.  One highlight I'm especially excited about: I'll be sharing how you can make a seamlessly repeating stamp out of foam! LEARN MORE
May 2021: Stencil Palooza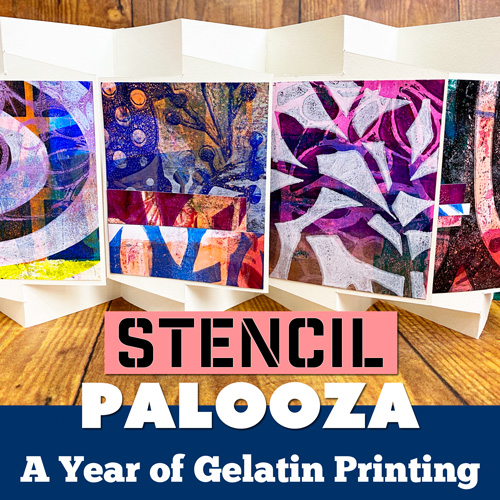 Stencils and gelatin plates belong together like chocolate and ice cream.  Each is great on its own but put them together and wow!  We will explore a variety of techniques for using stencils and masks on your gelatin plate, but we will also be hand cutting our own unique stencils.  I'll share tips and tricks on how to create fabulous one-of-a-kind stencils. It's easier than you think! LEARN MORE
June 2021: "Just" Paper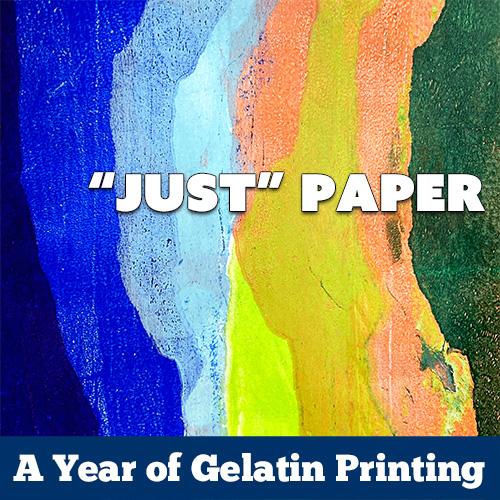 Paper is a powerful tool.  You'll be blown away by the gorgeous prints and patterns you can create with some simple paper manipulation.  If you want to take your gelatin plate with you when you travel, knowing these tricks makes it so much easier to pack!  And the bookbinding lesson in this workshop is the one everyone always asks about: coptic binding.  Don't worry if you've never made a book before. I'll walk you step-by-step through the process. LEARN MORE
July 2021: Drawn and Sketched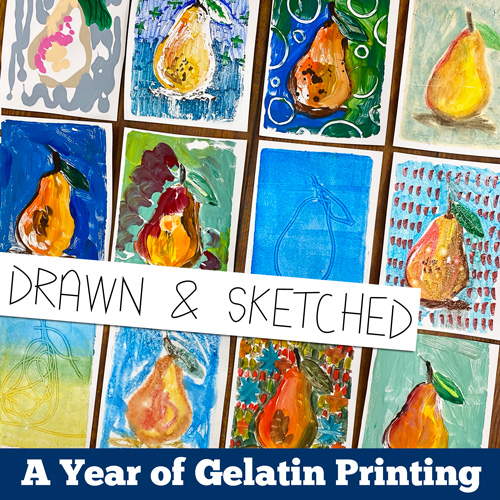 The gelatin plate is a wonderful surface for creating drawings.  AND if you use the right mediums, you can have hours and hours of time to work on your masterpiece.  Doesn't that sound great?! In class we will explore a wide variety of mediums to create our own unique drawings.  No actual drawing skills required!
Each class is $45 if you wish to purchase them a la carte.   
If you buy all 13 months, you get a discount of $135!!  (That's 3 months FREE, and a discount of almost 25%.)  Full price is $585 (13 x $45).  The discounted price is $450.
3-month payment plans are available until February 1, 2021.  Contact me to make an arrangement.
Some things for you to know:
All lessons are delivered via work-at-your-own-pace HD video.
On the first of each month, you will get access to that month's gelatin printing lesson.  On the fifteenth of each month, you will get access to that month's bookbinding lesson.
The bookbinding lessons range from incredibly simple forms to very complex ones.
Once you purchase this class, you have lifetime access to it.  Learn anytime and on your own schedule.
There are written "take aways" after every video. These are helpful (a) to reinforce learning and (b) to make finding the information you're looking for easy.
You can ask questions and interact with other students in the comments section of every lesson.
After this year of gelatin printing you will be a bonafide gelatin expert!
So what are you waiting for?  Join me for all the fun!